DAS is a new initiative of CandleAid in association with the Deaf and Blind School of Ratmalana. It is an extension of the existing Swim-for-Safety (SFS) programme started in 2007. On 14th May 2013, CandleAid commenced the DAS Programme, to teach the blind, and the hearing and speech impaired children to swim. 10 blind children from humble backgrounds commenced their training with the Right Honourable Justice Christy Weeramantry flagging off the DAS project.
The task set for the coach was not easy. She had not trained a blind student before. The target was to teach these children to swim 25 meters. On 13 June 2013, 7 of the 10 blind swimmers completed CandleAid's first training course successfully. They swam diagonally at times, navigating to the sound of a bell and a horn. Yes, it only needed people to believe that these children, differently abled, have abilities that cry out for opportunity.
Every swim day there are volunteers called the "Extra Eyes" adding a safety net and helping the coach. Anyone who wants to help the blind to swim. No names are needed; kindness is best, when it is nameless. The second batch was a group of hearing and speech impaired students followed by another visually impaired team and one special team of speech impaired boys from Jaffna. The Jaffna boys spent 10 days and while learning to swim, they also got an opportunity to see the city of Colombo and have a few first time experiences of the delights of city life.
Every month 10 Differently Abled Children learn to swim. The lessons are on Tuesdays and Thursdays at the CandleAid pool at St Sebastian's College, Moratuwa. The sponsorship donation also covers their transport cost and at times the cost of swimwear and other swimming needs such as towels, swim caps etc. Most of these children come from poor families with sad backgrounds. There was once a family of three girls and a boy, all blind, who had been abandoned by the parents and they are orphans at the Deaf and Blind School, Ratmalana. We taught them to swim, maybe a silver line in their dark lives.
We welcome schools or individuals to consider sponsoring a team. It would be wonderful for a handicapped child to know someone cared and made it possible for him or her to learn to swim.
---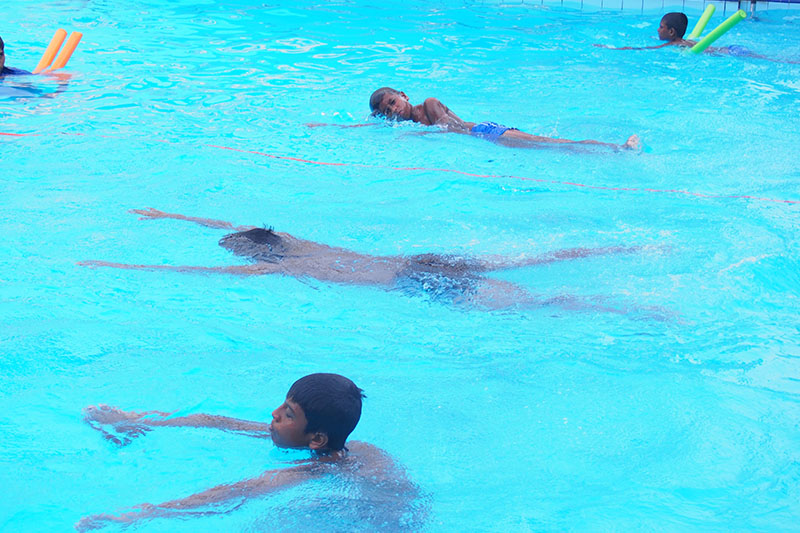 ---
Projects under the Education Programme